Getting a perfect-fitting custom dress shirt on the first try is not always possible. For many people, the absolute perfect fit will require a remake (or two). Some aspects of a shirt fit are hard to predict in advance and it's only after a first shirt has been made and worn that the finer aspects of the fit can be tuned. To support that, we provide each customer up to two complimentary shirt remakes. Click here to learn more about our Perfect Fit Guarantee. The following are our best practices to make the most out of your remakes and ultimately find your perfect fit.
Step 1: Wash the Shirt Once (Recommended)
We strongly encourage you to wash your shirt once (or even twice) before deciding how it fits. By no means will this invalidate our return policy or prevent us from doing a remake in the future.
How you launder the shirt will have a big impact on the size, so it's important to launder the shirt the way you plan to do so in the future. For example:
If you take your shirts to the professional cleaners where they do a "Wash and Press," this will cause some fabrics to stretch out, making the body looser and the sleeves longer.
If you wash your shirts at home and let them air-dry, the fabric will shrink and things can feel tighter.
If you wash your shirts at home and dry them in the dryer they can be expected to shrink up even more and feel even tighter.
Step 2: Give Your Shirt a Wear
To best evaluate the fit, wear the shirt in the way you plan to wear it in the real world. For example:
With a tie or without a tie
Open collar or buttoned all the way up
Tucked in or untucked
With slim fitting dress pants or with looser fitting casual pants
How you wear the shirt, and what you wear it with, will make a big difference in how the shirt looks and how you feel in the shirt, so try to make your test wear as real as possible.
For purposes of evaluating the fit, you're free to wear the shirt for a full day or two.
Step 3: Determine What Needs to Change
Option 1: Conduct Your Own Fit Assessment
If your shirt is close to perfect and you're confident you know what needs to change, you can conduct your own fit assessment and request a remake yourself, without any assistance.
Even if one part of the fit is obviously wrong, take the time to evaluate all aspects of how the shirt fits. Use this page as a check-list. We don't want you to go through the trouble of waiting for your remake only to discover another fit issue later.
Request your remake online by going to your Order History and clicking the button "Request a Remake" in the Shirts section of the page. You'll be prompted to enter in the new dimensions you'd like the shirt to be made with, have an opportunity to make changes to the style or fabric of the shirt, and have a chance to confirm your address.
Option 2: Email Us for Fit Advice
If you aren't sure what needs to change, we are more than happy to assist! Email us fit photos, along with comments about what you like or dislike about the fit. Details on how to submit fit-photos are here.
After we review your photos we'll email you our size change recommendations and any other questions we might have. After you confirm, we can process the remake for you.
Email your fit photos to contact@propercloth.com to get this process started.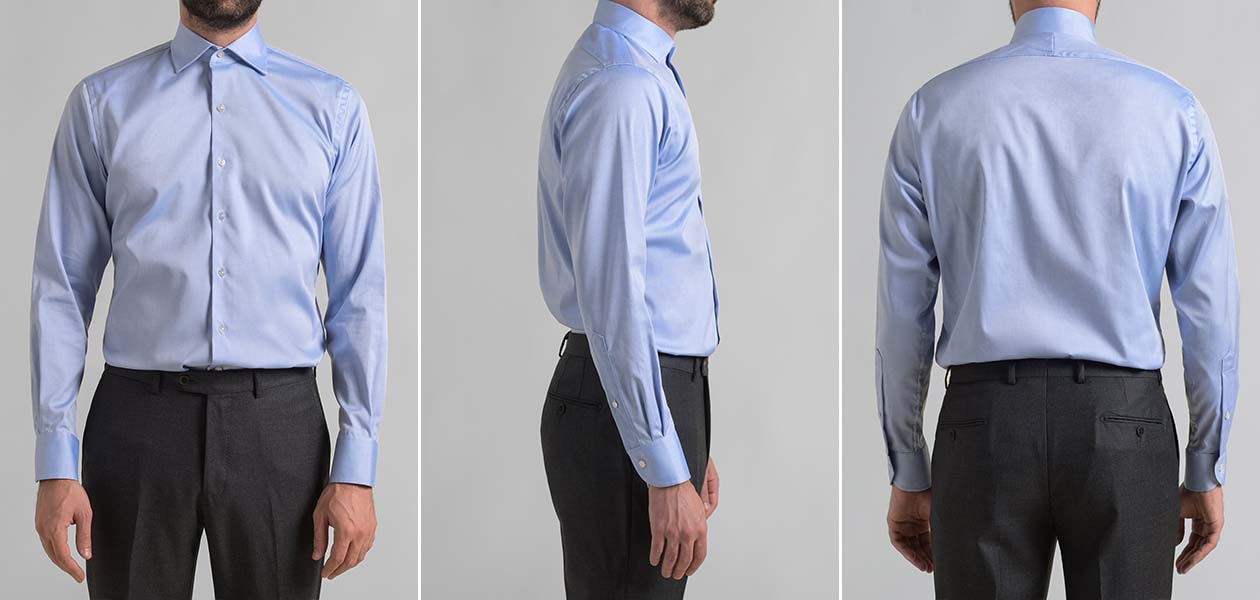 Option 3: Schedule a Virtual Consultation
Another way to get fit advice and request a remake is to schedule a virtual consultation. Click here to schedule a virtual consultation. To best prepare for your virtual consultation we suggest:
Wear the shirt you purchased.
Wear the style of pants and shoes you plan to wear with the shirt.
If you plan to wear this shirt with a jacket or tie, have them handy.
If you have a measuring tape, have that handy.
You can do the call on either a phone or laptop. If using a phone, have some way to stand the phone up so that you can stand back and show the shirt fully.
Plan to be in a room with good lighting, where you can stand such that your shirt will be fully visible on your camera.
On the video call, a fit specialist will review your fit with you and discuss what to change. After your consultation is complete, your fit specialist can process your remake for you.
Option 4: Schedule a Showroom Appointment (New York Only)
You can also visit one of our physical locations in New York to get fit advice and request a remake. Click here to schedule an in-person consultation. To make the most of your in-person consultation we suggest:
Bring (or wear) the shirt you purchased to your appointment. If you wear it, also bring a spare shirt to wear home so you can leave your purchased shirt with us when you're done.
Wear the style of pants and shoes you typically plan to wear with the shirt.
If you have another shirt that you like the fit of better, bring that along as well.
At your in-person consultation, we will review your fit together and discuss what to change. You will also be able to try on other standard size shirts we have in the showroom, or shop for other items entirely.
After, or during, your consultation, your fit specialist will process your remake for you.
Step 4: Return Your Shirt
After you're finished evaluating the fit of your shirt and your complimentary remake has been processed, we ask that you return your shirt to one of our locations in New York. To mail your garment back, you can reuse the original packaging and the free USPS return shipping label included in your order. Our address for this purpose is:
    Proper Cloth
    Attn: Remakes
    495 Broadway, 6th Floor
    New York, NY 10012

Alternatively, you can drop your shirt off at any of our locations in New York.